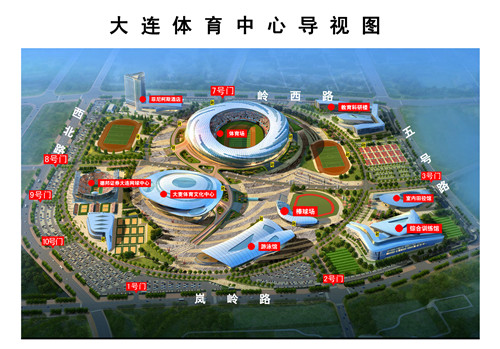 Stadium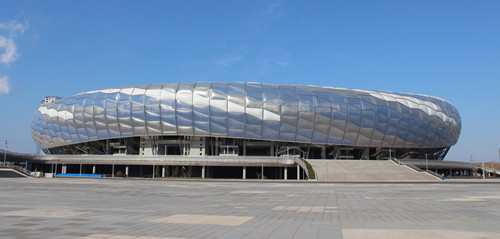 Dalian stadium covers a land area of 135,000 m2 and owns 61,000 seats. The building area is 120,000 m2. It can host track and field, football and other Olympic events and is meanwhile equipped with the function for large-scale urban activity.
The stadium is the largest independent building in Dalian Sports Center, which is in a single-story, large space structure with 5 floors. It is composed of the athlete area, competition management area, news media area, VIP area, guest area, etc according to functional arrangement. There are two training fields on both sides of the stadium, covering a land area of 60,000 m2.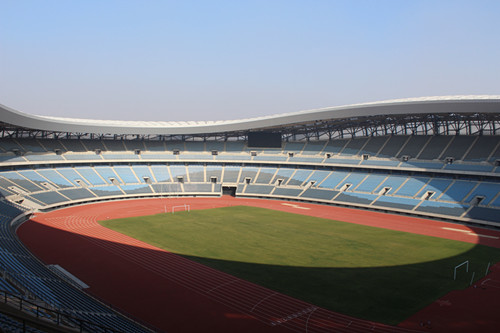 The main roof steel structure of the stadium adopts the annular spatial structure system formed by 68 cantilever trusses and 6 annular trusses. The total steel weight of the main steel structure is more than 5,300 tons. The unfolded area of the membrane structure is 60,000 m2; besides, it has a huge stand capable of accommodating 61,000 audiences. During the construction, in order to ensure construction quality and progress, the stand boards and steel structure of the stadium are all pre-fabricated and assembled on site. The construction idea and workmanship of the modular and industrial mode is adequate recognized by leaders from Liaoning Department of Construction. It will be taken as the advanced experience and promoted in the whole Liaoning province.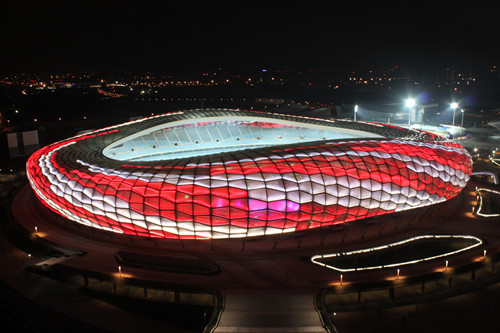 Same as Beijing "Water Cube", Dalian stadium adopts ETEF membrane structure.The competition venues have advanced water seepage system, there will be no water accumulation even in a torrential rain.
Gymnasium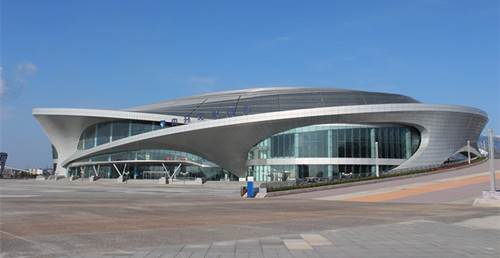 The gymnasium serves as the soul of the sports center buildings. It covers a land of 95,000 m2 and owns 18,000 seats and the building area is 83,000 m2. The gymnasium is designed and constructed according to the standard governing hosting Olympic event. It's capable of hosting basketball, volleyball, Ping-Pong, badminton, handball, gymnastics, boxing, indoor football, ice sports and NBA events; meanwhile, it also has the function of hosting large cultural entertainment activities. Aside from 15,000 fixed seats, the venue is also equipped with 3,000 retractable seats. The boxes, broadcast room, athletes warming up area, underground parking lot and catering area are all available.
The architectural design of the gymnasium adopts "suspendome" structure. The roof apex height is 45m, horizontal span is approximately 116m and the longitudinal span is approximately 145.4m. The plane is the irregular eclipse shape. The gymnasium is one of the current world's suspendome projects with the largest span. According to statistics, the gymnasium roof steel structure has more than 30,000 basic components; in order to reach one hundred-year engineering requirement, all seams for the project are level I seams; through computation, the engineering structural components are formed by the combination of more than 100,000 connection plates and nearly 20,000-linear-meter level I seams.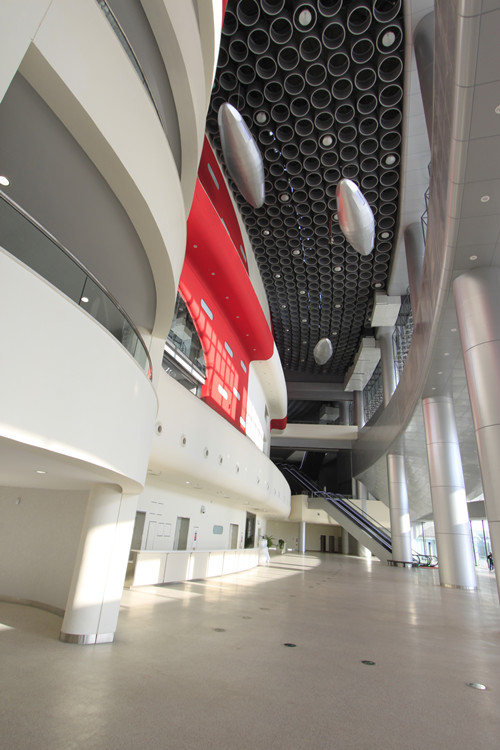 To adopt diverse new workmanship and technology for energy conservation and emission reduction to the maximum extent is the environmental protection feature of the gymnasium, for example, in terms of the air conditioning system design, the advanced heat supply and refrigeration system is used to minimize energy consumption, such as exhaust air heat recovery, layer air conditioning, seat air intake, secondary return air, low temperature floorboard, radiation warming, etc; besides, the roof adopts standing seal system and intelligent snow melting system to better resolve roof water drainage issue of the large venue.
The gymnasium can accommodate 18,000 audiences and is one of the largest gymnasiums in terms of audience accommodation. During the ongoing construction of the gymnasium, in order to cope with wind accident, Dalian sports center had conducted stringent simulation test in Harbin Institute of Technology and made 1:10 model; in order to prevent destruction of the sudden typhoon, the aluminum veneer is also added; meanwhile, when the utility power is paralyzed under the acute freezing weather, the generator in the gymnasium cellar will automatically turn on very quickly to meet with the operation requirement of the gymnasium.
If the ice hockey competition is staged in the gymnasium, it can meet with NBA match requirement in 36 hours. It sounds incredible but feasible. During the ongoing design and construction, the gymnasium is endowed with capability of 36 transformations. The huge four-floor "bucket screen" right high in front of the competition field may have the height adjusted to meet with demand of performance and audience watching the events in an all-round manner.
Natatorium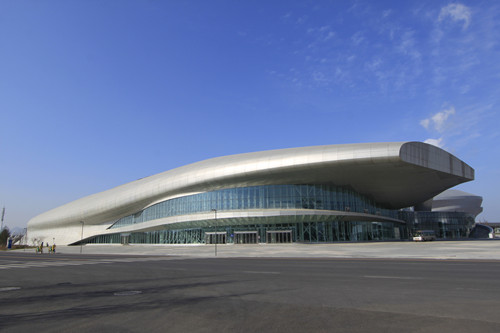 Dalian natatorium covers a land area of 50,000 m2 and owns 4,200 seats. The building area is 39,000 m2. According to the functional arrangement, the natatorium is composed of competition area, competition management area, athlete and accompanying officer area, news media area, referee area, audience area, logistics office service area, equipment and support area.
The natatorium establishes one standard 50-meter-long 10-lane competition pool, one standard diving pool and one 50-meter-long 8-lane warming up pool. The natatorium can meet requirement of Olympics and world-level single competition. It can host swimming, synchronized swimming, diving and water polo competition.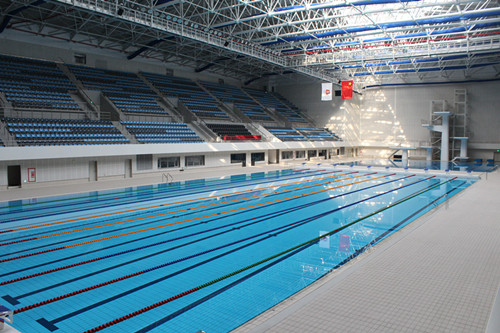 The overall building and facility configuration of the natatorium can be parallel with Beijing "Water Cube". Its technical level of electric intelligent equipment is domestic leading. The underwater monitoring system can observe, record and instantly replay underwater movement of the athlete during competition and training; the competition pool is mounted with movable end wall and electric entry equipment and other humane facility specially intended for the handicapped athletes. The diving pool is also equipped with gas wave and water wave system as well as the internationally advanced cushion system to avoid accidental injury of divers during training.
With respect to the water disposal system of the natatorium, aside from the regular physical and chemical filter & sterilization system for water purification, it also adopts the most advanced international biological purification system for harmless treatment on water quality. Its environmental protection level has reached international standard.
Tennis Center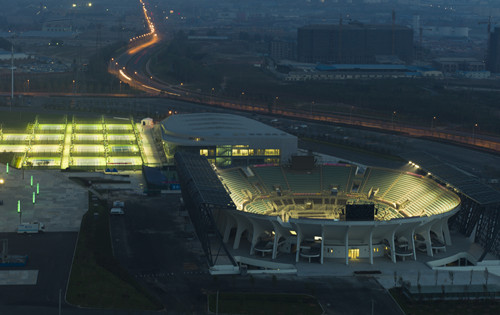 The tennis field covers a land area of 100,000 m2 and the total building area is 44,000 m2. It is composed of one tennis final field accommodating 10,000 audiences, one indoor tennis training hall in three fields, two semifinal fields separately accommodating 1,000 audiences, eight preliminary fields and six training fields. It can host world-level tennis match in an all-round manner.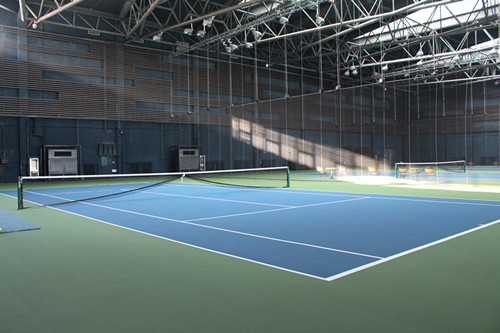 Functions of the tennis center may meet the demand on indoor training by the professional sports team and athletes during harsh weather. Meanwhile, the all-round requirements of public health, irregular indoor tennis match, etc are taken into consideration.
Baseball Field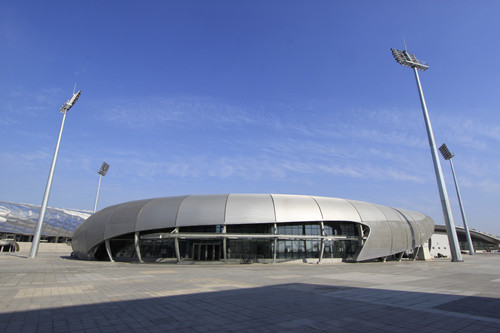 Dalian baseball field covers a land area of 40,000 m2 and owns 3,015 seats. The building area is 1,900 m2. It can host professional international baseball competition. When the softball competition is held, the baseball field can be converted as a standard softball field.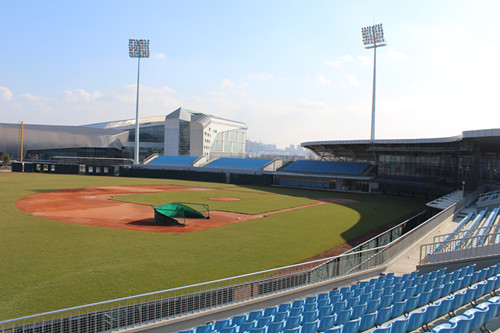 The baseball field is small, well-furnished and very practical. It's a comprehensive baseball (softball) field integrating competition and training.
Athletes Training Base
The athletes training base covers a land area of 130,000 m2 and the total building area is 97,000 m2. It's composed of three independent buildings, namely integrated training hall, indoor athletics stadium and Education&Scientific Research Building.
.
Integrated training hall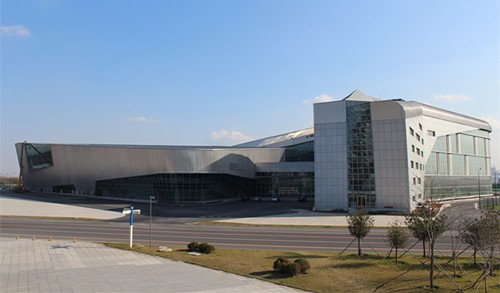 Integrated training hall has a building area of 40,000 m2 and its main functions include regular training on basketball, volleyball, badminton, Ping-Pong, weightlifting, wrestling, judo, etc.
Indoor Athletics Stadium
Indoor Athletics Stadium is a building area of 10,000 m2, including indoor eight 140-meter tracks and six 200-meter tracks. Its main functions include training on field and track training, etc.
Education&Scientific Research Building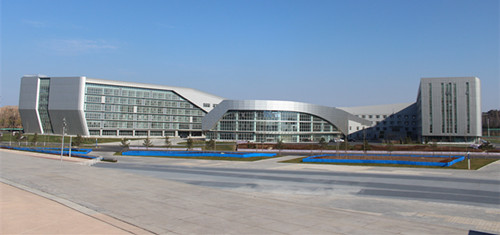 Education&Scientific Research Building is a building area of 47,000 m2 and its main functions include office, research, teaching, hostel, catering, etc.
Media Center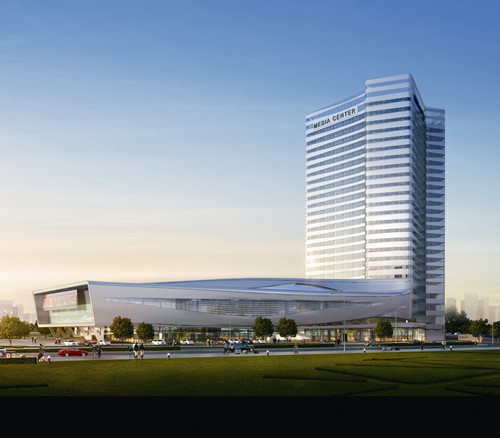 The media center covers a land area of 22,000 m2 and the building area is 78,000 m2; aside from news broadcast, report and several other functions required by all competitions in the sports center, the media center usually serves as a five-star hotel with 400 rooms and has very strong reception function.