The 2
nd
"Dalian Sports Festival" Promotes Sports among All People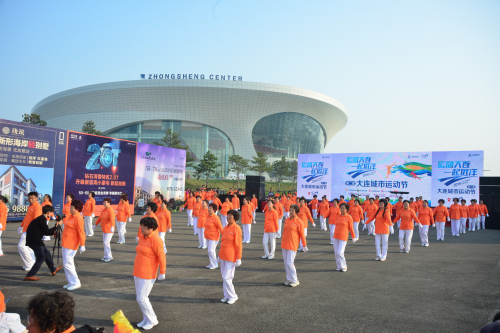 The 2nd "Dalian Sports Festival" was held in Sports Center yesterday. All the sports amateurs gathered in Sports Center to experience Skills Final, Sports Festival, Thousand Persons Performance, Dalian Football Night and other theme parties in Stadium for free. In accordance with information, the activity has released about approximately 800 experience tickets and 2000 match tickets through WeChat platform to citizens freely, all the tickets were taken by citizens at once.
"Dalian Sports Festival" was jointly hosted by Dalian Sports Center and Yuangyang Real Estate Co., Ltd., which focused on healthy sports, promoted sports among all people and obtained a bright name card for Dalian as "City of sports", "City of football", "City for living".
Since the open of 1st "Dalian Sports Festival", it was welcomed by all the citizens. The 2nd "Dalian Sports Festival" not only reserved the essence of sports but also increased the project of football, etc. There were five stadiums opened in Sport Center, including five-person football stadium, indoor & outdoor basketball court, indoor & outdoor tennis court, swimming pool, badminton stadium, table tennis court, etc. At the same time, a splendid sports feast has landed in comprehensive stadium. It was the largest plaza dance show in Dalian. On that day, the Sports Center was very boisterous. There were more than 4000 citizens sharing the happy moment together. At 4:00 p.m., Dalian Aerbin competed with Qingdao Huanghai Pharmacy, there were more than 30000 football fans played up for Dalian Aerbin.