Charming BIGBANG Valuable Tickets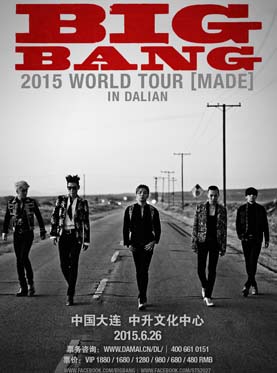 In the eagerly expectation of music fans, BIGBANG 2015 WORLD TOUR [MADE] will be held on June 26 at Zhongsheng Cultural Center (Dalian Sports Center Stadium).
BIGBANG is a Korean group which started their career in 2006, including Quan Zhilong, Cui Shengxian, Dong Yongpei, Jiang Dasheng and Li Shengxian. BIGBANG's music encompasses a variety of elements, without losing the tricks of RAP and with casual typhoon and musical lyrics, they have won lots of prizes, including 2014 World Music Prize "World Best Group", etc.
In accordance with introduction of sponsor, this world tour is designed by the famous creative master-Le Roy Bennett and Ed burke and top professor international team to build glaring stage effect and lights. Hundreds of lights and perfect BIGBANG stage performance will provide a unique vision feast for fans.
This world tour Dalian station is the first time for BIGBANG to come to Dalian and it is also the sole station in the northeast of China in 2015. At the scheduled time, lots of fans from all over the country will see the concert together. Only in a short time, all the tickets were sold out. All the fans were crazy for the concert.
According to information, after the concert of The Backstreet Boys, Phoenix Legend and BIGBANG, Zhongsheng Cultural Center (Dalian Sports Center-Stadium) will undertake the concert of Zhang Xinzhe, Cai Qin, etc. The activity schedule of Sports Center will be published on the official website or WeChat platform, and citizens can buy the ticket in accordance with schedule in advance.