Dalian Sports Center Forms a Modernized Sports Site with an International Level
Wang Rongqi, Reporter from Liaoning Daily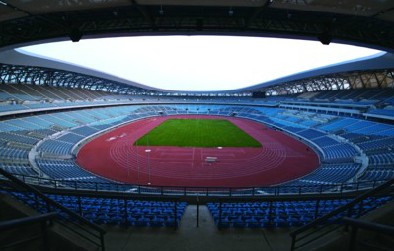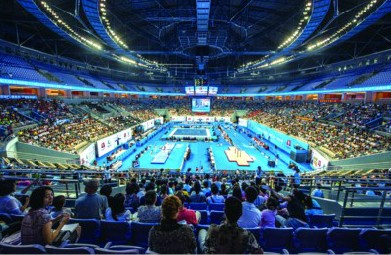 Viewers are watching matches in the Stadium of Dalian Sports Center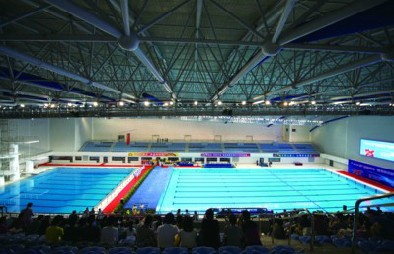 On the map of Dalian with sea on three sides, a seaside area in the north is bursting its strong vigor, that is right Dalian Sports Center covering an area of 820,000 sq. m. and occupying a floor space of 500,000 sq. m. In 2009, the sports center that Dalian Xinghaiwan Development & Construction Management Center began to construct had 10 single projects, being a sports stadium and gym building group of domestic first class, in an international leading position and with a symbolic nature, a sense of the times. In this building group, there is a gym in a suspended dome structure with the largest span globally and being able to "wash face" for itself and there are also competition facilities up to NBA field standard. These first-class sports stadiums and gyms in the world have been unveiled successively. In 2013, the 12th National Sports Meet was held in Liaoning Province. The brand new Dalian Sports Center became a place of competition, training for the National Sports Meet and successfully fulfilled such five event items as gymnastics, synchronized swimming, youth group of men's football, women's football and tennis ball.
Planning with a high starting point and being able to host all important events
Dalian Sports Center is located at the intersection between Zhuqi Road and Lanling Road in Ganjingzi District, Dalian. In the core region of the city, the transportation is convenient. Being 4km away from Dalian North Station, 9km from the airport and adjacent to Shen-Da Expressway, Tu-Yang Expressway, it covers a total area of 820,000 sq. m. and occupies a total floor space around 500,000 sq. m. The construction of sports center project commenced in May 2009 and was completed and put into operation successively in Apr. 2013. USA Nadhoi Building Design Company designed the general planning scheme and single building conceptual schemes. All stadiums and gyms were designed and constructed according to world class A event standard requirements. The USA AEG Group is responsible for gym operation consultation. It has a total of 10 single stadiums and gyms, including stadium, baseball court, tennis court, sports gym, swimming gym, indoor tennis training gym, media center, comprehensive training gym, indoor track and field gym, education and scientific research building. In which, the stadium covers an area of 135,000 sq. m. (another two outdoor training grounds cover an area of 60,000 sq. m., occupies a floor space of 120,000 sq. m., has 61,000 seats, being able to host such Olympic events as track and field, football, etc. and considering large urban activity functions concurrently. The sports gym covers an area of 95,000 sq. m. and occupies a floor space of 83,000 sq. m., has 18,000 seats and the design and construction of which is based on the requirement to hold Olympic events as the standard. It can host various sports and events and simultaneously has the function to hold large international standard recreational activities. The Tennis Court covers an area of 99,000 sq. m. and occupies a total floor space of 44,000 sq. m., being able to host world class tennis events. The Baseball Court covers an area of 40,000 sq. m., occupies a floor space of 3,000 sq. m. and has 3,000 seats, being able to host professional international baseball events. The Swimming Gym covers an area of 50,000 sq. m., occupies a floor space of 39,000 sq. m. and has 4,200 seats, being able to host Olympic events and world top class single events.
Multiple single body project designs creating world records
To demonstrate the sports culture and urban characteristics of Dalian, the general planning of the Sports Center Project combined with the profound cultural deposits and ocean elements of Dalian. It takes dynamic as layout, condenses both sports speed and power beauties, exhibits an elegant bearing with a dynamic sense and a balance in sports. By taking both the Sports Stadium and Sports Gym as the core, the connected S platform as the main vein and other stadiums and gyms and auxiliary facilities as the auxiliary vein, a flowing picture composition is formed and the theme of "vein of sports" is embodied. In which, the outline construction of the stadium is similar to splicing of the leather pieces on the surface of a football with alternate blue and white tones adopted to embody the football culture and regional characteristics of Dalian; what the outline of the gym exhibits is muscular curves and embodies the sense of power of sports; the design of the Swimming Gym is like sea waves; the facade of the Tennis Court is enclosed by a construction similar to ivy; the appearance of the media center also has sports elements incorporated, etc. All these single stadiums and gyms were elaborately designed around the theme and have become the new landmarks of Dalian with the building landscape beauty. With a perfect visual effect, high-standard sports facilities and an open style national fitness site, the general design makes the Sports Center become a domestic first-class comprehensive sports venue.
In the design of the whole Sports Center project, multiple single body project designs created the world records. In which, the building design of the Sports Gym adopted a structural system of "suspended dome", which is new self-balancing system formed by combining a single-layer lattice shell structure and a tensioning cable bar system. This design philosophy created an Asian record and makes it a project in a suspended dome structure with the largest span in Asia at present. The area of membrane structure used for the appearance of the Sports Stadium makes it a large building only next to Water Cube in the world at present.
Successfully fulfilling various competition tasks in the 12th National Sports Meet
Until now, the Sports Center has successively hosted domestic and foreign large sports events and various performance activities, successfully fulfilled the task to undertake such five event items of the 12th National Sports Meet as gymnastics, synchronized swimming, youth group of men's football, women's football and tennis ball. During the events, the functional facilities of the gyms and stadiums, sports process, etc. received unanimous good comments from State Physical Culture Administration, the Organization Commission of the National Sports Meet and the athletes taking part in competitions, news media. After the National Sports Meet, the Sports Gym successively hosted a global heavyweight boxing championship, the concert tours of Justin Bibb, Liu Dehua, Cai Qin in China, the world performance tour activity of world top class repertoire "Disney on Ice", etc., receiving audiences from Northeast China and other places in China and overseas for nearly 70,000 person-time. In 2014, the Sports Center has enter into 40 plus activity intents, including such large theatrical performance activities as Zhou Jielun's concert, Chen Yixun's concert, etc. At the same time, the main stadiums and gyms of Dalian Sports Center, including Sports Stadium, Tennis Court, Sports Gym, Swimming Gym, have now been opened to the city residents. During "10.1" golden week in 2013, Dalian Sports Center held a free opening date activity to the city residents, during which city residents for 2,000 plus person-time were received with unanimous good comments obtained from the city residents. It is determined that the Sports Stadium and Tennis Court are open to the city residents on free basis on every Wednesday. The Swimming Gym will also carry out a gate ticket presenting activity through the official microblog in the near future to make more city residents enjoy the joy brought by fitness.
In future, the Sports Center, as a high-level internationalized sports venue with modernized gyms and stadiums, advanced technical facilities, internationally fashioned design style will become a new sports, recreational exchange center in Northeast Asia. At the same time to provide a high-standard sports and fitness venue for the vast city residents, sports event and theatrical performance activities with international first-class level and influential power will be introduced to bring more high-level sports, recreational experience to the city residents of Dalian. Dalian Sports Center has not only driven the environmental improvement and economic development in the northern area of Dalian, strongly promoted the urban infrastructure construction and environmental construction, boosted the development of the sports undertaking and industry in Dalian, but will also make an active contribution to molding a good urban image of Dalian and further upgrading the international image of Dalian City.